The Gosling Wildlife Gardens

"A garden is to learn and love nature," says Philip Gosling simply, capturing the essence of the Gosling Wildlife Gardens over time.
Thanks to the generous support of the Gosling Foundation, a corner of The Arboretum has completely transformed from a field into a sheltered patchwork of ponds, glades, textures, and experiences that offer both diverse habitat for wildlife and learning opportunities for people. All six gardens are intended to demonstrate practical approaches, thoughtful plant choices and useful garden features that will inspire visitors to incorporate these elements to attract, sustain, and protect a variety of wildlife in their own backyards. While the theme of each garden has changed over time - sometimes dramatically - the guiding principal to educate, connect and inspire visitors remains.
Currently, the Gosling Wildlife Gardens are undergoing a multi-year revitalization project, supported by a new legacy gift from the Gosling Foundation in 2020. The Arboretum will be enhancing gardens by updating their theme, expanding their plant collections, and making garden demonstrations more relevant to current gardeners and garden trends. To keep up with the changes happening at the Gosling Wildlife Gardens, check out our updates page.
Garden Map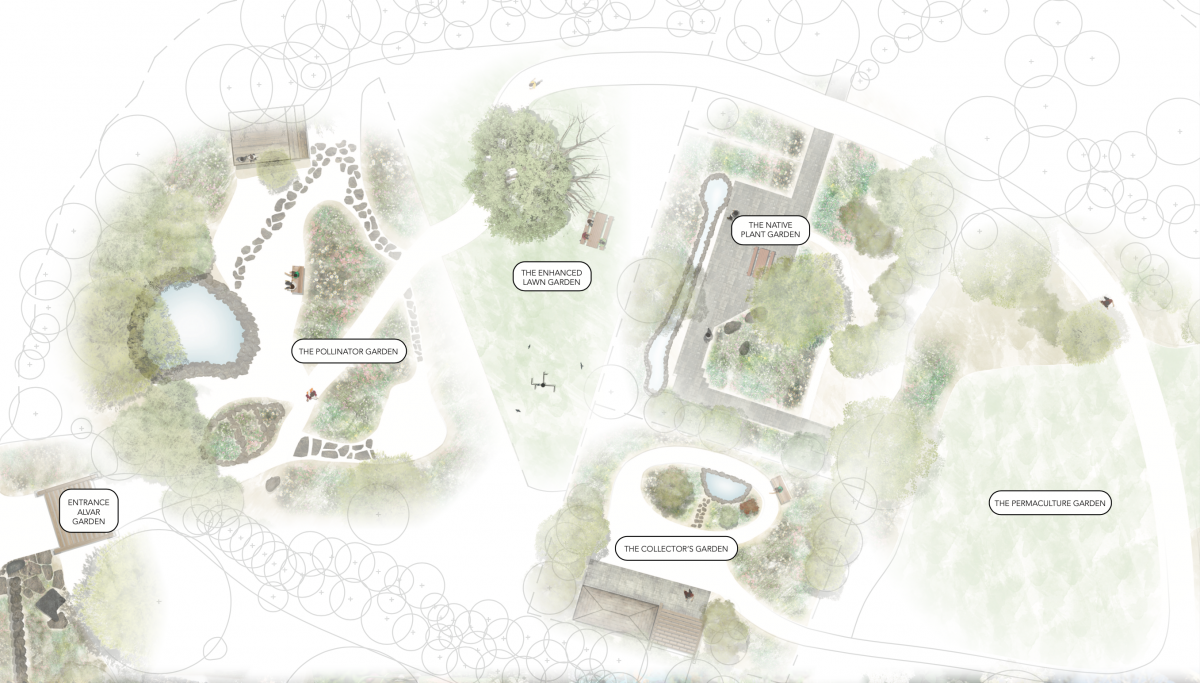 Click to enlarge the map.
The Gosling Wildlife Gardens collection is a neighbourhood of six gardens on the scale of urban and suburban backyards. Each one is planted with trees, shrubs and herbaceous plants that provide food and/or cover for wildlife. The plant list for each garden is included on the gardens' individual pages which are linked below. The plants selected for the gardens are available from nurseries, garden centers or the Annual Arboretum Auxiliary Plant Sale.
After entering each garden, look for the drawing of the house. These represent the location of the house for each backyard. Also note that the plantings have been arranged in relation to the backyard gardens, not the path. The path is purely to assist you in exploring each garden.
Maps and Descriptions for each Wildlife Garden:
Wildlife Needs
Wondering how you can make your own backyard more wildlife friendly? There are 4 things that need to be provided in any wildlife garden;
Food - This includes fruits, berries and nuts as well as leaves, bark, nectar, pollen, buds and flowers. And the herbivores attracted to these also attract predators which are an important part of the ecology of a garden.
Water - Obviously needed for drinking, but also important for aquatic creatures and plants as well as for animals that have part of their life cycle in the water such as dragonflies, toads and frogs
Shelter - Whether it is from the elements or from predators or for raising young, shelter is an important part of the garden for wildlife
Space - Some need a little and some need a lot, but all wildlife needs at least some space to survive.
History of the Gosling Wildlife Gardens
Gardens are always growing and changing over time. The Gosling Wildlife Gardens are a great representation of gardens' variability because they have flourished and transformed since their opening in 1987. To learn more about the history of the Gosling Wildlife Gardens and to see just how much they have grown, please visit the Gosling Wildlife Gardens History page.
---
For more information about the Gosling Wildlife Gardens or to make a donation, please contact arbor@uoguelph.ca.