Arboretum Spiders

Spiders are a group of invertebrates that we all recognise but most of us don't really know a lot about them. They are incredibly diverse in their shape and hunting strategies and many have gorgeous colours and patterns.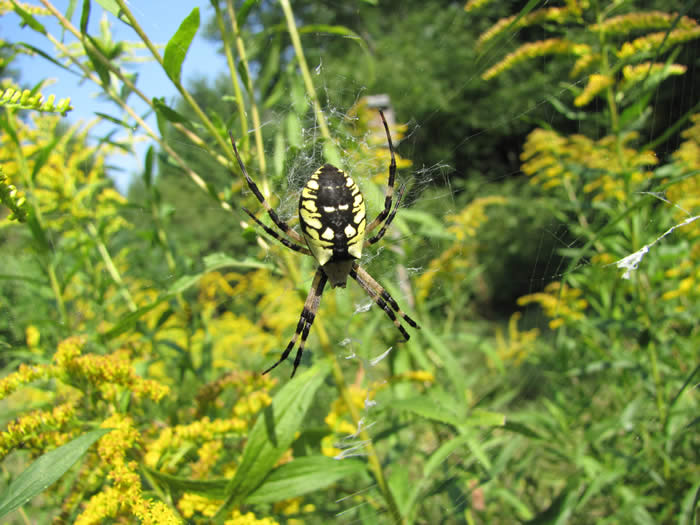 Black-and-yellow Garden Spider. Photo by Chris Earley
The Arboretum list has 159 species on it so far. Most of these sightings were made by Dr. Gergin (Gerry) Blagoev, a research associate from the University of Guelph's Biodiversity Institute of Ontario. Thanks, Gerry! Thanks also to John Reaume, Dan Schneider and Candice Talbot for their records. A full list can be found below.  We often offer a spider workshop - click here to check our workshops schedule.  As well, we sell a Spiders of The Arboretum booklet - click here for details.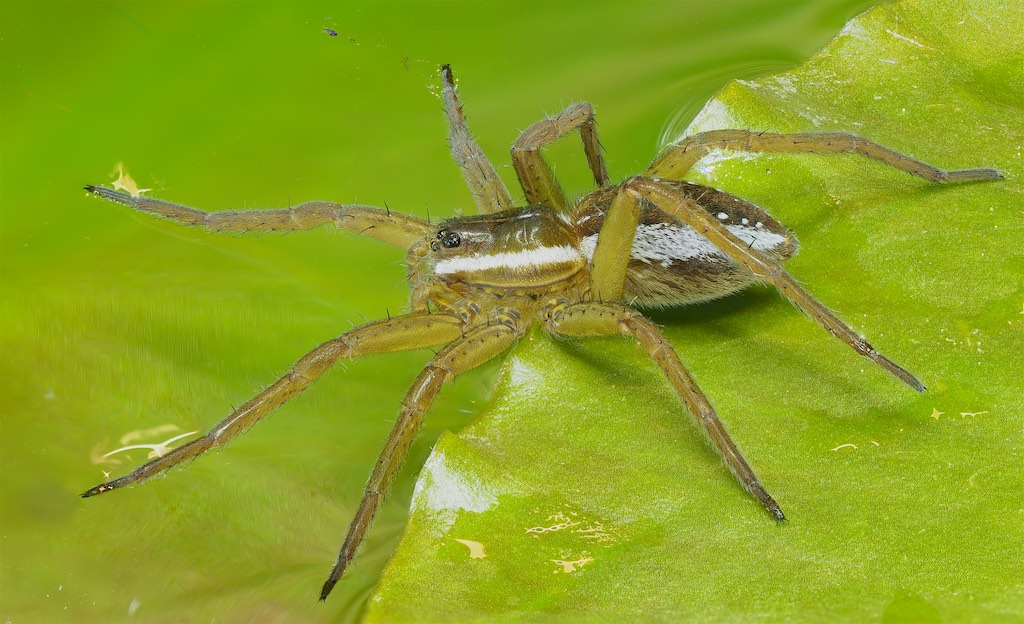 Sixspotted Fishing Spider.  Photo by John Reaume.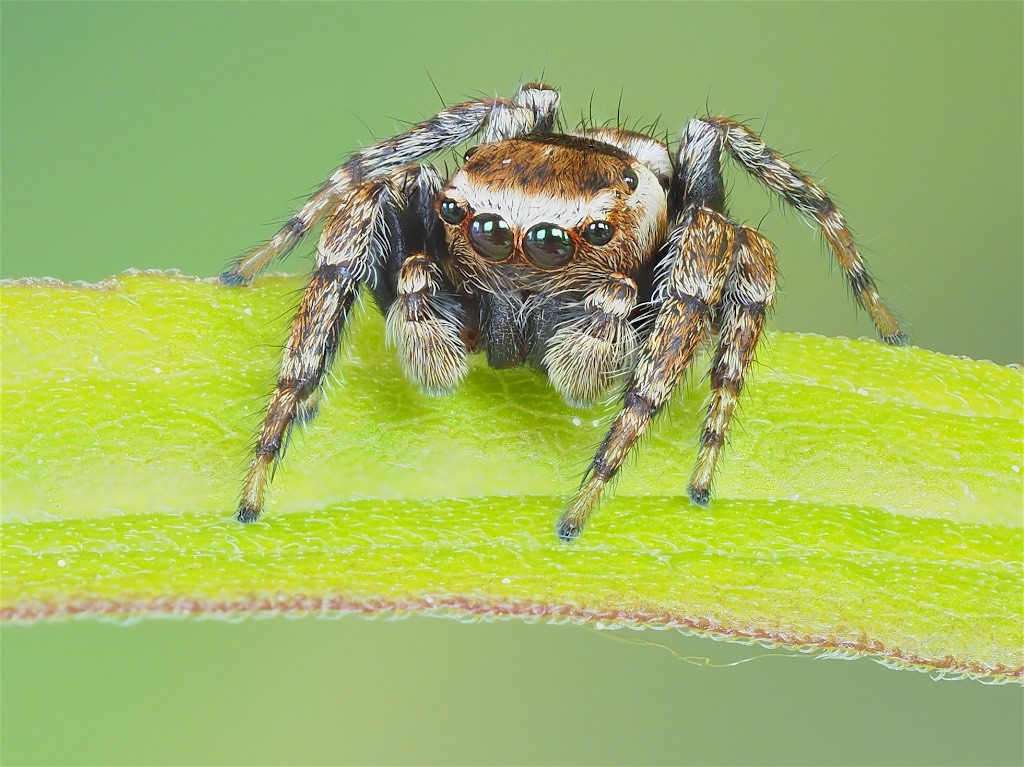 Hoy's Jumper. Photo by John Reaume.
Spiders of The University of Guelph Arboretum
Araneae - [24 families]
Family Agelenidae (Funnel Weavers)
Agelenopsis potteri
Agelenopsis utahana
Coras aerialis
Coras juvenilis
Coras lamellosus
Eratigena agrestis - Hobo Spider
Wadotes calcaratus
Family Anyphaenidae (Ghost Spiders)
Anyphaena celer
Anyphaena pectorosa
Hibana gracilis - Garden Ghost Spider 
Wulfila saltabundus - Foliage Spider
Family Araneidae (Orbweavers)
Acanthepeira stellata - Starbellied Orbweaver
Araneus diadematus - Cross Orbweaver
Araneus saevus
Araneus thaddeus - Lattice Orbweaver
Araneus trifolium - Shamrock Orbweaver
Araniella displicata - Sixspotted Orbweaver
Argiope aurantia - Black-and-yellow Garden Spider
Argiope trifasciata - Banded Garden Spider
Cyclosa conica - Conical Trashline Orbweaver
Cyclosa turbinata - Humped Trrashline Orbweaver
Eustala anastera - Humpbacked Orbweaver
Eustala rosea
Hypsosinga pygmaea - Pygmy Orbweaver
Hypsosinga rubens
Mangora gibberosa - Lined Orbweaver
Mangora placida - Tuftlegged Orbweaver
Mastophora hutchinsoni - Cornfield Bolas Spider
Neoscona arabesca - Arabesque Orbweaver
Family Clubionidae (Sac Spiders)
Clubiona abboti - Stout Sac Spider
Clubiona johnsoni
Clubiona obesa
Clubiona pygmaea
Family Corinnidae (Antmimic Spiders)
Castianeira gertschi - Antmimic Spider sp
Family Dictynidae - (Meshweavers)
Dictyna coloradensis
Dictyna volucripes
Emblyna manitoba
Lathys sp. 1GAB
Family Eutichuridae (Yellow Sac Spiders)
Cheiracanthium mildei - Northern Yellow Sac Spider
Family Gnaphosidae (Stealthy Ground Spiders)
Drassyllus depressus
Herpyllus eccesiasticus - Parson Spider
Micaria pulicaria
Zelotes fratris
Zelotes hentzi
Zelotes sp.
Family Hahniidae (Dwarf Sheet Spiders)
Cicurina brevis
Cicurina pallida
Cicurina sp. 1GAB
Family Linyphiidae (Dwarf and Sheetweb Weavers)
Agyneta fabra
Agyneta serrata
Agyneta sp.
Allomengea dentisetis
Baryphyma gowerense
Baryphyma trifrons affine
Centromerus sylvaticus
Ceraticelus emertoni
Ceraticelus fissiceps
Ceratinella brunnea
Diplostyla concolor
Erigone atra
Erigone autumnalis
Frontinella communis - Bowl and Doily Spider
Gnathonaroides pedalis
Grammonota angusta
Grammonota gigas
Grammonota ornata
Grammonota pictilis
Hypselistes florens - Splendid Dwarf Spider
Hypselistes semiflavus
Meioneta serrata
Mermessus tridentatus
Mermessus trilobatus
Neriene montana
Neriene radiata - Filmy Dome Spider
Pocadicnemis sp. 2GAB
Scironis tarsalis
Tenuiphantes zebra
Walckenaeria atrotibialis
Walckenaeria communis
Walckenaeria subspiralis
Family Liocranidae (Spinylegged Sac Spiders)
Family Lycosidae (Wolf Spiders)
Pardosa distincta
Pardosa milvina
Pardosa moesta
Pardosa saxatilis
Piratulla cantralli
Schizocosa crassipalpata
Trebacosa marxi
Trochosa terricola - Ground Wolf Spider
Family Mimetidae (Pirate Spiders)
Ero canionis
Mimetus notius
Mimetus puritans
Family Philodromidae (Running Crab Spiders)
Ebo iviei
Philodromus cespitum - Turf Running-spider
Philodromus imbecillus
Philodromus peninsulanus
Philodromus rufus vibrans
Philodromus vulgaris
Thanatus formicinus - Diamond Spider
Tibellus maritimus
Tibellus oblongus - Slender Running Crab Spider
Family Pholcidae (Longbodied Cellar Spiders)
Pholcus phalangioides - Longbodied Cellar Spider
Family Phrurolithidae (Dwarf Antmimic Spiders)
Phrurotimpus alarius
Phrurotimpus borealis
Scotinella minnetonka
Family Pisauridae (Nursery Web Spiders and Fishing Spiders)
Dolomedes triton - Sixspotted Fishing Spider
Dolomedes tenebrosus - Dark Fishing Spider
Pisaurina brevipes - Nursery Web Spider
Family Salticidae (Jumping Spiders)
Admestina wheeleri
Eris militaris - Bronze Jumper
Eris rufa
Evarcha hoyi - Hoy's Jumper
Habronattus decorus
Hentzia mitrata - Whitejawed Jumper
Marpissa formosa
Naphyrs pulex - Flea Jumper
Pelegrina flaviceps
Pelegrina flavipes
Pelegrina galathea - Peppered Jumper
Pelegrina insignis
Pelegrina proterva - Reckless Jumper
Phidippus audax - Bold Jumper
Phidippus clarus - Brilliant Jumper
Platycryptus undatus - Tan or Familiar Jumper
Salticus scenicus - Zebra Jumper
Sitticus fascigar - Mottled Jumper
Sitticus floricola palustris 
Talavera minuta
Tutelina harti
Tutelina similis
Family Tetragnathidae (Longjawed Orbweavers)
Glenognatha foxi
Leucauge venusta - Orchard Orbweaver
Meta ovalis - Cave Orbweaver
Pachygnatha autumnalis - Thickjawed Orbweaver
Pachygnatha dorothea
Pachygnatha tristriata
Tetragnatha laboriosa - Silver Longjawed Orbweaver
Tetragnatha shoshone
Tetragnatha straminea
Tetragnatha versicolor
Family Theridiidae (Cobweb Weavers)
Enoplognatha intrepida
Enoplognatha ovata - Candy Stripe Spider
Euryopis funebris - Ant-eating Spider
Neospintharus trigonum - Dewdrop Spider
Neottiura bimaculata
Parasteatoda tepidariorum - Common House Spider
Steatoda triangulosa - Triangulate Cobweb Weaver
Theridion frondeum - Leafy Cobweb Weaver
Theridion murarium
Thymoites unimaculatus
Wamba crispulus
Yunohamella lyrica - Adolescent Common House Spider
Family Theridiosomatidae (Ray Orbweavers)
Theridiosoma gemmosum - Ray Orbweaver
Family Thomisidae (Crab Spiders)
Bassaniana utahensis
Mecaphesa asperata - Northern Crab Spider
Misumena vatia - Goldenrod Crab Spider
Ozyptila praticola
Tmarus angulatus - Angled Crab Spider
Xysticus alboniger
Xysticus discursans
Xysticus emertoni
Xysticus luctans
Xysticus punctatus
Xysticus sp. 3GAB
Family Trachelidae (Ground Sac Spiders)
Trachelas tranquillus - Bullheaded Sac Spider
Family Uloboridae (Hackled Orbweavers)
Uloborus glomosus - Featherlegged Orbweaver
TOTAL: 162 species