Biodiversity Booklets
Do you ever wonder who is visiting your feeder or what that dragonfly might be called? How about identifying that pretty flower in the woods or who left those tracks?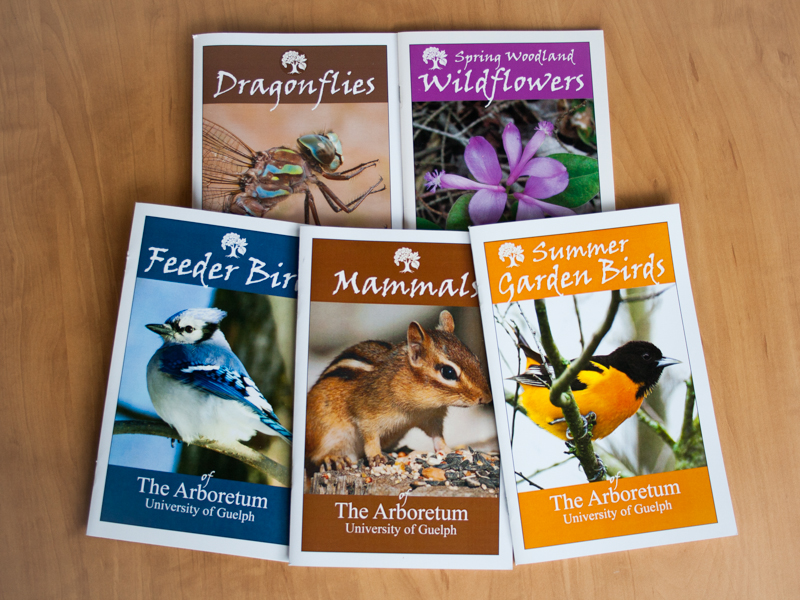 To increase awareness of local wildlife, The Arboretum has put together seven booklets to help you and your family connect with nature. Spiders of The Arboretum shows the local diversity of these fascinating arachnids. Mushrooms of The Arboretum showcases the many different interesting fungi that grow here. Spring Woodland Wildflowers of The Arboretum features the showy forest flowers of May. Mammals of the Arboretum not only shows what furry animals might be in your neighbourhood, but what tracks they leave. Feeder Birds of the Arboretum covers winter birds that you might find in your backyard. Summer Garden Birds will help you identify your warm season birds. Dragonflies of The Arboretum shows the diversity of these mosquito eaters. Learn how to identify dragonflies with fun names such as meadowhawk, snaketail, amberwing, dasher and emerald.
Below are a few sample pages for you to see.
They are available in our online shop. A shipping fee does apply.

In the future, watch for more booklets in the series! These booklets are supported by the Girling Environmental Education Endowment and the Gosling Foundation