Arboretum Birds

A total of 211 bird species have been found in the University of Guelph Arboretum (see list below).  This 165 hectare area has various habitats including maple/beech forest, old fields, ponds, swamps and beech/hemlock forest, creating many great places to observe birds and other wildlife. No matter what the season, you will find a variety of species on every visit. Want to see what has been seen recently? Click here to see the e-bird hotspot lists.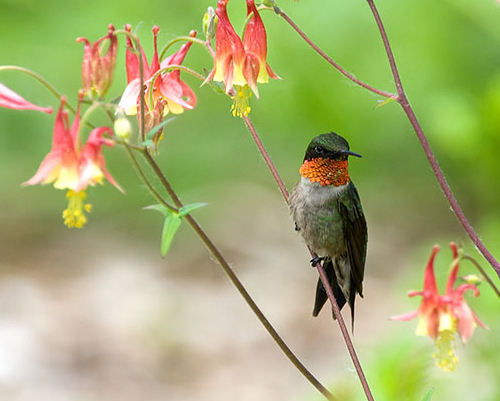 Our Ruby-throated Hummingbirds become quite tame and delight birders and photographers alike. Photo by Jon Brierley.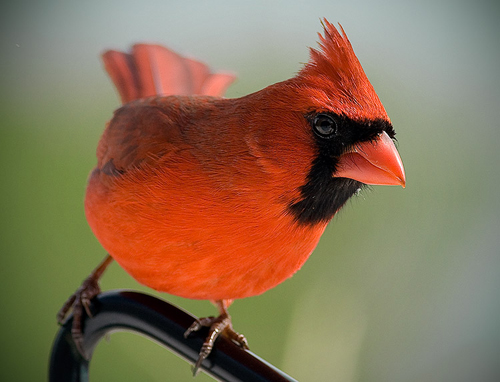 Northern Cardinals are popular with new and experienced birders. Photo by Josh Crozier.
In the list below, the 87 species marked with an * have been known to breed in this site.  Those marked with (*) may breed here also.  The two species marked with ** are escapees.  One species is marked with !; this is the extinct  Passenger Pigeon.  Historical records indicate that this species may have had a breeding colony along the Speed River close to The Arboretum and thus this species was likely a common sight here long ago.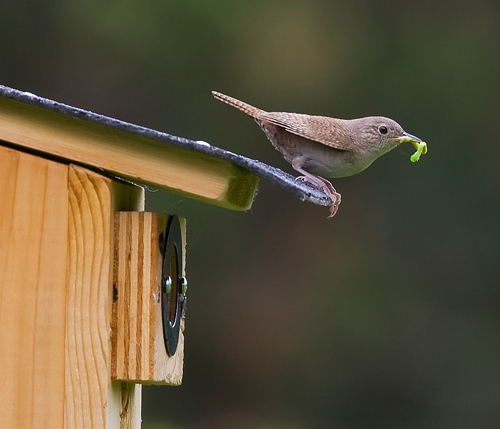 Our many bird boxes attract species such as Eastern Screech-Owls, Tree Swallows, Eastern Bluebirds, Great Crested Flycatchers, Black-capped Chickadees and, of course, House Wrens (shown here). Photo by Marienna Egressy.
We teach a wide variety of bird workshops at The Arboretum; click here to see which ones are coming up! We also sell Feeder Birds of The Arboretum and Summer Garden Birds of The Arboretum booklets .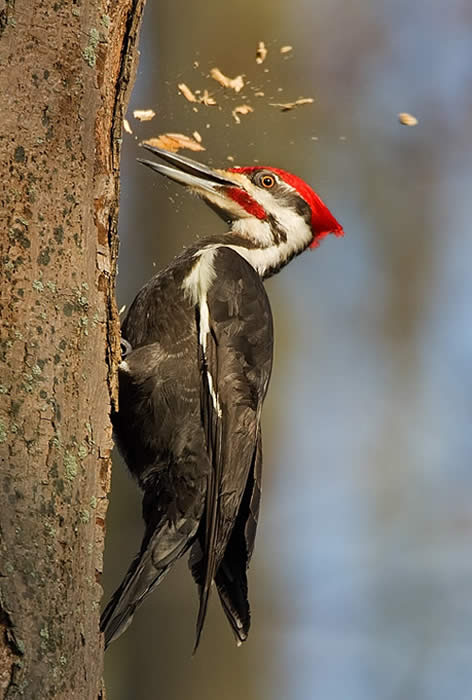 Pileated Woodpeckers often nest in our forests. As you can see, they are efficient at excavating their nesting cavities! Photo by Karl Egressy.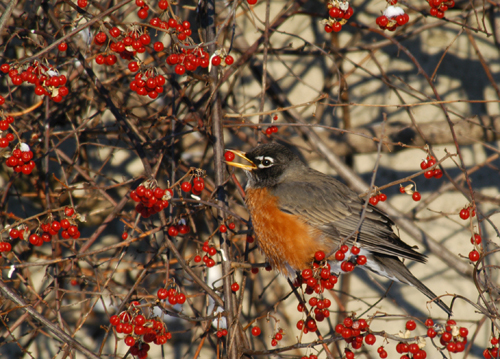 American Robins (shown here), Cedar and Bohemian Waxwings and many other species are attracted to berries in The Arboretum in winter. Photo by Chris Earley.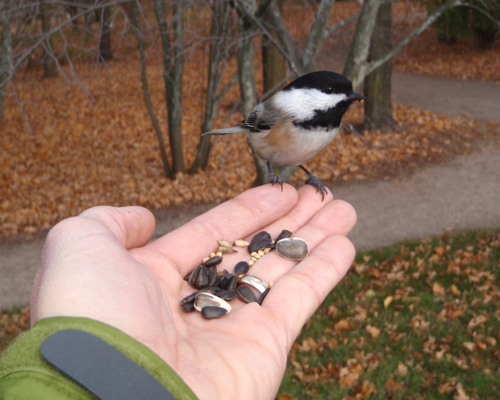 Our Black-capped Chickadees may be enticed to your hand if you stand still enough. Photo by Chris Earley.
Birds of The University of Guelph Arboretum
ANSERIFORMES
Ducks, Geese, & Swans 
Snow Goose
Cackling Goose 
Canada Goose *
Tundra Swan
Wood Duck *
American Black Duck
Mallard *
Blue-winged Teal *
Green-winged Teal
Bufflehead
Common Goldeneye
Hooded Merganser *
Common Merganser
Red-breasted Merganser
GALLIFORMES
New World Quail
Partridges, Grouse, & Turkeys
Chukar **
Ruffed Grouse *
Wild Turkey
PODICIPEDIFORMES
Grebes 
COLUMBIFORMES
Pigeons and Doves 
Rock Pigeon
Mourning Dove *
Passenger Pigeon 
CUCULIOFORMES
Cuckoos & Anis
Yellow-billed Cuckoo *
Black-billed Cuckoo *
CAPRIMULGIFORMES
Goatsuckers 
Common Nighthawk
Whip-poor-will
APODIFORMES
Swifts  
Hummingbirds
Ruby-throated Hummingbird *
GRUIFORMES
Rails, Gallinules, & Coots 
Cranes
CHARADRIIFORMES
Plovers
Sandpipers & Phalaropes
Spotted Sandpiper
Solitary Sandpiper
Greater Yellowleg
Lesser Yellowlegs
Wilson's Snipe *
American Woodcock *
Upland Sandpiper 
Gulls, Turns, & Skimmers
Franklin's Gull
Bonaparte's Gull
Ring-billed Gull
Herring Gull
Iceland Gull
Lesser Black-backed Gull
Glaucous Gull
Great Black-backed Gull
Caspian Tern
GAVIIFORMES
Loons
SULIFORMES
Cormorants
PELECANIFORMES
Herons & Bitterns
American Bittern *
Least Bittern
Great Blue Heron
Great Egret 
Cattle Egret
Green Heron *
Black-crowned Night-Heron
ACCIPITRIFORMES
Vultures
Osprey
Hawks, Kites, & Eagles
Bald Eagle
Northern Harrier *
Sharp-shinned Hawk *
Cooper's Hawk *
Northern Goshawk
Red-shouldered Hawk
Broad-winged Hawk
Red-tailed Hawk *
Rough-legged Hawk
STRIGIFORMES
Typical Owls​
Eastern Screech-Owl *
Great Horned Owl *
Snowy Owl
Barred Owl
Long-eared Owl *
Northern Saw-whet Owl
CORACIIFORMES
Kingfishers 
PICIFORMES
Woodpeckers 
Red-headed Woodpecker *
Red-bellied Woodpecker
Yellow-bellied Sapsucker
Downy Woodpecker *
Hairy Woodpecker *
Northern Flicker *
Pileated Woodpecker *
FALCONIFORMES
Caracaras & Falcons
American Kestrel *
Merlin
Peregrine Falcon
PASSERIFORMES
Tyrant Flycatchers 
Olive-sided Flycatcher
Eastern Wood-Pewee *
Yellow-bellied Flycatcher
Acadian Flycatcher
Alder Flycatcher *
Willow Flycatcher *
Least Flycatcher
Eastern Phoebe *
Great Crested Flycatcher *
Eastern Kingbird *
Shrikes 
Vireos 
Yellow-throated Vireo
Blue-headed Vireo
Warbling Vireo *
Philadelphia Vireo
Red-eyed Vireo *
Crows & Jays
Blue Jay *
American Crow *
Fish Crow
Common Raven
Larks 
Swallows
Purple Martin
Tree Swallow *
Northern Rough-winged Swallow
Bank Swallow *
Cliff Swallow
Barn Swallow *
Chickadees & Tits 
Black-capped Chickadee *
Boreal Chickadee 
Tufted Titmouse
Nuthatches 
Red-breasted Nuthatch *
White-breasted Nuthatch *
Creepers
Wrens 
Carolina Wren
House Wren *
Winter Wren *
Sedge Wren *
Gnatchatchers 
Kinglets 
Golden-crowned Kinglet
Ruby-crowned Kinglet
Thrushes 
Veery
Gray-cheeked Thrush
Swainson's Thrush
Hermit Thrush
Wood Thrush *
American Robin *
Eastern Bluebird *
Mockingbirds & Thrashers
Gray Catbird *
Northern Mockingbird *
Brown Thrasher *
Starlings
Waxwings 
Bohemian Waxwing
Cedar Waxwing *
Old World Sparrows
Pipits 
Finches
Purple Finch *
House Finch *
Pine Grosbeak
Red Crossbill (*)
White-winged Crossbill (*)
Common Redpoll
Hoary Redpoll
Pine Siskin
American Goldfinch *
Evening Grosbeak
Longspurs & Snow Buntings
Lapland Longspur
Snow Bunting
Wood-Warblers 
Blue-winged Warbler
Golden-winged Warbler
Tennessee Warbler
Orange-crowned Warbler
Nashville Warbler
Northern Parula
Yellow Warbler *
Chestnut-sided Warbler
Magnolia Warbler
Cape May Warbler
Black-throated Blue Warbler
Yellow-rumped Warbler (*)
Black-throated Green Warbler
Blackburnian Warbler
Pine Warbler *
Palm Warbler
Bay-breasted Warbler
Blackpoll Warbler
Cerulean Warbler
Prairie Warbler
Black-and-white Warbler *
American Redstart (*)
Prothonotary Warbler
Ovenbird
Northern Waterthrush *
Connecticut Warbler
Mourning Warbler (*)
Common Yellowthroat *
Wilson's Warbler
Canada Warbler
Yellow-breasted Chat
Sparrows (Emberizids)
Eastern Towhee *
American Tree Sparrow
Chipping Sparrow *
Clay-colored Sparrow (*)
Field Sparrow *
Vesper Sparrow *
Savannah Sparrow *
Grasshopper Sparrow *
Fox Sparrow
Song Sparrow *
Lincoln's Sparrow
Swamp Sparrow *
White-throated Sparrow (*)
White-crowned Sparrow
Dark-eyed Junco
Cardinals & Allies
Scarlet Tanager
Northern Cardinal *
Rose-breasted Grosbeak *
Indigo Bunting *
Blackbirds
Rusty Blackbird
Red-winged Blackbird *
Bobolink *
Common Grackle *
Brown-headed Cowbird *
Baltimore Oriole *
Orchard Oriole 
Eastern Meadowlark *
Western Meadowlark
TOTAL: 212 species