Wednesday Walks

Wednesday Walk Information
Wednesday Noon Walks: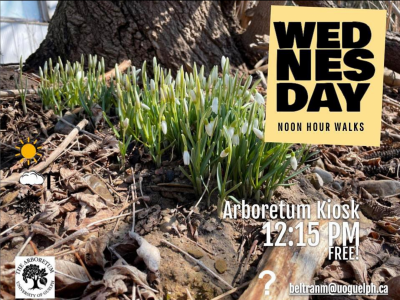 Nature is know to be unpredictable and unexpected, so what awaits us today? Michelle, The Arboretum's Naturalist Inter, will be leading 1 hour long walks every Wednesday. Walks start at The Arboretum kisosk at 12:15pm. For more information contact Michelle at beltranm@uoguelph.ca or ext. 53615.
Please not that the hike may be canclled if there is inclement weather. Cancellations are posted on our social media pages.

We kindly ask that walk participants follow the current University Covid protocols. Current protocols can be found here.
Wednesday Evening Walks: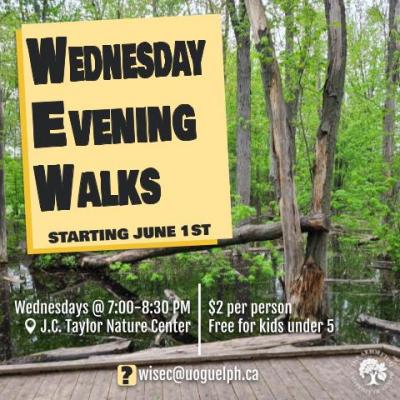 For the months of June, July, and August we also run Wednesday Evening Walks.

Wednesday Evening Walks are coming back starting June 1st! Join us each Wednesday at the J.C. Nature Center from 7:00 to 8:30 PM to explore a different aspects of the world around us! Topics for each evening walk will be updated on this page soon!
Cost is $2 per person and free for kids under 5. If you have any questions, feel free to reach out to Christa at wisec@uoguelph.ca. We can't wait to see you there!
Virtual Walks:
In the past, when we were unable to run in-person walks, we offered walks in a virtual formate. Our Wednesday Walk videos can be found below, or on YouTube channel to check them all out.
View the most recent Wednesday Walk video:
You can find links to more Wednesday Walk videos below: