Body:

Wednesday Walk Information
Wednesday Noon Walks: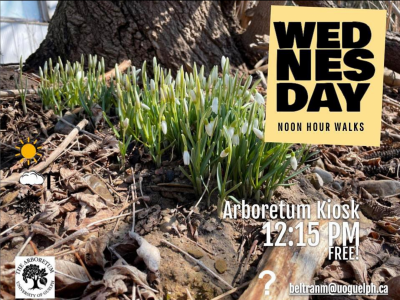 Nature is know to be unpredictable and unexpected, so what awaits us today? Michelle, The Arboretum's Naturalist Inter, will be leading 1 hour long walks every Wednesday. Walks start at The Arboretum kisosk at 12:15pm. For more information contact Michelle at beltranm@uoguelph.ca or ext. 53615.
Please not that the hike may be canclled if there is inclement weather. Cancellations are posted on our social media pages.

We kindly ask that walk participants follow the current University Covid protocols. Current protocols can be found here [1].
Wednesday Evening Walks: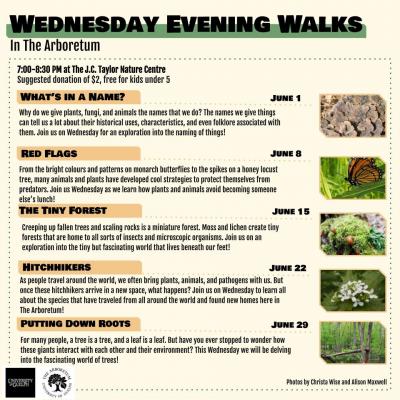 Wednesday Evening Walks are coming back starting June 1st! Join us each Wednesday for the months of June, July, and August at the J.C. Nature Center from 7:00 to 8:30 PM to explore a different aspects of the world around us!
June's Evening Walks will be on the following topics:
June 1: What's in a Name?
Why do we give plants, fungi, and animals the names that we do? The names we give things can tell us a lot about their historical uses, characteristics, and even folk lore associated with them. Join us on Wednesday for an exploration into the naming of things!
June 8: Red Flags
From the bright colours and patterns on monarch butterflies to the spikes on a honey locust tree, many animals and plants have developed cool strategies to protect themselves from predators. Join us Wednesday as we learn how plants and animals avoid becoming someone else's lunch!
June 15: The Tiny Forest
Creeping up fallen trees and scaling rocks is a miniature forest. Moss and lichen create tiny forests that are home to all sorts of insects and microscopic organisms. Join us on an exploration into the tiny but fascinating world that lives beneath our feet!
June 22: Hitchhikers
As people travel around the world, we often bring plants, animals, and pathogens with us. But once these hitchhikers arrive in a new space, what happens? Join us on Wednesday to learn all about the species that have traveled from all around the world and found new homes here in The Arboretum!
June 29: Putting Down Roots
For many people, a tree is a tree, and a leaf is a leaf. But have you ever stopped to wonder how these giants interact with each other and their environment? This Wednesday we will be delving into the fascinating world of trees!
Cost is $2 per person and free for kids under 5. If you have any questions, feel free to reach out to Christa at wisec@uoguelph.ca [2]. We can't wait to see you there!
Virtual Walks:
In the past, when we were unable to run in-person walks, we offered walks in a virtual formate. Our Wednesday Walk videos can be found below, or on YouTube channel [3] to check them all out.
View the most recent Wednesday Walk video:
You can find links to more Wednesday Walk videos below: