Arboretum Fungi

A total of 287 fungus (and slime mould) species have been found in the University of Guelph Arboretum and surrounding campus areas. Many of these records are provided by George Barron, a retired U of Guelph professor and the author of Mushrooms of Ontario and Eastern Canada. As well, many of the species here have been added by Richard Aaron and Tim Myles during our mushroom workshops (click here to see a listing of the workshops we offer).  We also sell a Mushrooms of The Arboretum booklet - click here for details.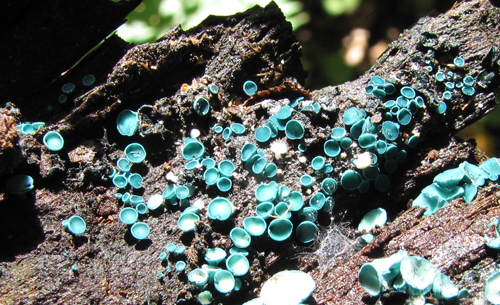 Blue-stain Fungus (Chlorociboria aeruginascens).
Please Note: It is illegal to remove any fungi from The Arboretum!!! Research projects happen here and so collecting is not allowed.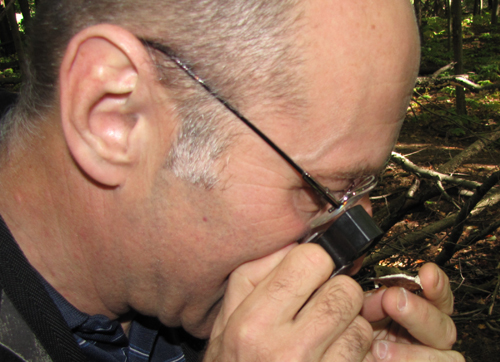 Richard Aaron identifying one of our specimens during a Mushroom Workshop.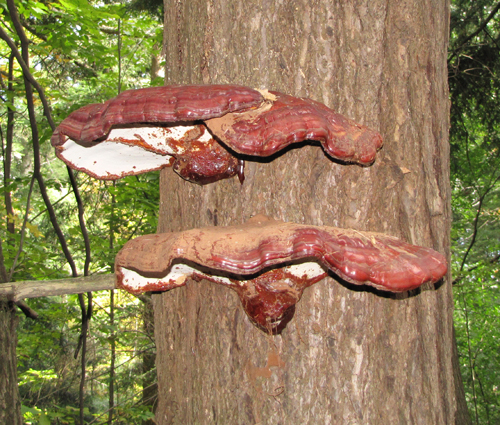 Hemlock Varnish Shelf (Ganoderma tsugae).
Fungi (and Slime Moulds) of The University of Guelph Arboretum
Observers:  George Barron, Richard Aaron, Tim Myles, Diane Borsato, Joy Killen and Chris Earley
GILLED
Agaricus sp.
Agaricus campestris
Agaricus edulis
Agaricus fuscofibrillosus
Agaricus placomyces
Agaricus silvaticus
Agrocybe molesta
Agrocybe pediades
Agrocybe semiorbicularis
Agrocybe vervacti
Amanita flavoconia
Amanita muscaria var. formosa
Amanita virosa
Armillaria sp.
Armillaria mellea (complex)
Armillaria ostoyae
Calocybe carnea
Chroogomphus vinicolor
Climacocystis borealis
Clitocybe gibba
Clitocybe martiorum
Clitocybe gigantea
Clitocybula familia
Clitocybula ocula
Clitopilus orcellus
Clitopilus prunulus
Conocybe lactea
Conocybe tenera
Coprinus atramentarius
Coprinus comatus
Coprinus disseminatus
Coprinus lagopus
Coprinus micaceus
Coprinus plicatilis
Coprinus quadrifidus
Cortinarius sp.
Cortinarius mucosus
Cortinarius purpureophyllus
Cortinarius semisanguineus
Cortinarius traganus
Crepidotus sp.
Crepidotus applanatus
Crepidotus crocophyllus
Crepidotus mollis
Crinipellis setipes
Crinipellis zonata
Entoloma abortivum
Flammulina velutipes
Galerina marginalis (autumnalis)
Gymnopilus sp.
Gymnopilus penetrans
Gymnopus dryophilus
Gymnopus subnudus
Hebeloma crustuliniforme
Hygrocybe sp.
Hygrocybe cantharellus
Hygrocybe conica
Hygrocybe psittacina
Hygrocybe reai
Hygrophoropsis aurantiaca
Hygrophorus chrysodon
Hygrophorus eburneus
Hypholoma fasciculare
Hypsizygus tessulatus
Inocybe sp.
Inocybe fuscodisca
Inocybe geophylla
Inocybe rimosa
Inocybe sororia 
Laccaria laccata
Lactarius chrysorrheus
Lactarius deterrimus
Lentinellus ursinus
Lepiota cristata
Lepista irina
Lepista nuda
Leptonia incana
Leucoagaricus naucinus
Leucocoprinus luteus
Leocopholiota decorosa
Marasmiellus candidus
Marasmius androsaceus
Marasmius oreades
Marasmius rotula
Melanoleuca melaleuca
Mycena sp.
Mycena corticola
Mycena haematopus
Mycena leaiana
Mycena metata
Mycena polygramma
Mycena pura
Mycena subcaerulea
Panaeolina foenisecii
Panaeolus sphinctrinus
Panellus serotinus
Panellus stipticus
Paxillus atrotomentosus
Paxillus involutus
Pholiota sp.
Pholiota albocrenulata
Pholiota aurivella
Pholiota granulosa 
Pholiota malicola
Pholiota squarrosa
Pholiota squarrosoides
Phyllotopsis nidulans
Pleurotus ostreatus
Plicaturopsis crispa
Pluteus atromarginatus
Pluteus cervinus
Pluteus chrysophaeus
Psathyrella sp.
Psathyrella candolleana
Psathyrella multipedata
Psathyrella velutina
Pseudoarmillariella ectypoides
Pseudoclitocybe cyathiformis
Rhodocollybia butyracea
Rhodocollybia maculata
Rickenella fibula
Russula brevipes
Russula densifolia
Russula peckii
Schizophyllum commune
Stropharia aeruginosa
Stropharia hardii
Tapinella panuoides
Tricholoma myomyces
Tricholomopsis rutilans
Tubaria confragosa
Tubaria furfuracea
Volvariella pusilla
Xeromphalina campanella
Xerula furfuracea
Xerula megalospora
BOLETES
Boletus subvelutipes
Chalciporus sp.
Chalciporus piperatus
Gyrodon merulioides
Leccinum sp.
Leccinum insigne
Leccinum scabrum
Suillus grevillei
Suillus luteus

POLYPORES & SIMILAR
Abortiporus fractipes
Albatrellus ovinus
Bjerkandera adusta
Bondarzewia berkeleyi
Cerrena unicolor
Climacocystis borealis
Daedaleopsis confragosa
Fomes fomentarius
Fomitopsis pinicola
Ganoderma applanatum
Ganoderma lucidum
Ganoderma tsugae
Gloeophyllum sepiarium
Gloeophyllum trabeum?
Gloeoporus dichrous 
Inonotus tomentosus
Ischnoderma resinosum
Laetiporus sulphureus
Lenzites betulina
Oxyporus populinus
Phellinus conchatus
Phellinus igniarius
Phellinus punctatus
Phellinus tremellae
Piptoporus betulinus
Polyporus arcularius
Polyporus badius
Polyporus brumalis
Polyporus radicatus
Polyporus squamosus
Polyporus varius
Postia caesia
Postia fragilis
Thelephora caryophyllea
Trametes conchifer
Trametes elegans
Trametes hirsuta
Trametes pubescens
Trametes versicolor
Trichaptum abietinum
Trichaptum biforme
Tyromyces chioneus
Tyromyces fissilis

PUFFBALLS & SIMILAR
Calvatia excipuliformis
Calvatia gigantea
Crucibulum laeve
Cyathus stercoreus
Dictyophora duplicata
Lycoperdon curtisii
Lycoperdon nigrescens
Lycoperdon perlatum
Lycoperdon pyriforme
Mutinus elegans
Phallus impudicus
CHANTERELLES & SIMILAR
PARCHMENT & RESUPINATES
Chondrostereum purpureum
Irpex lacteus
Phlebia incarnata
Phlebia radiata
Phlebia tremellosa
Stereum complicatum
Stereum hirsutum
Stereum ostrea
Stereum striatum
Thelephora palmata
TOOTH FUNGI
Hericium americanum
Hericium coralloides
Hydnum repandum
Sarcodon imbricatus
Steccherinum ochraceum
CORAL FUNGI
Clavaria vermicularis
Clavicorona pyxidata
Multiclavula mucida
Ramaria sp.
Ramaria aurea
Ramaria stricta
Ramariopsis kunzei
JELLY FUNGI
Calocera cornea
Dacrymyces palmatus
Dacrymyces stillatus
Dacryopinax spathulara
Exidia glandulosa
Exidia recisa
Tremella concrescens
Tremella foliacea
Tremella reticulata
Tremellodendron pallidum
CUP FUNGI
Aleuria aurantia
Bisporella citrina
Chlorociboria aeruginascens
Crinula caliciiformis
Dasyscyphus virgineus
Geopora sepulta
Pachyella clypeata
Peziza sp.
Peziza repanda
Peziza vesiculosa
Scutellinia scutellata
Scutellinia setosa
MORELS & SIMILAR
Helvella elastic
Morchella esculenta
ASCO JELLIES
Ascocoryne cylichnium
Ascocoryne sarcoides
CLUB FUNGI & EARTHTONGUES
Clavariadelphis ligula
Xylaria hypoxylon
Xylaria longipes
Xylaria polymorpha
CARBON-LIKE BALLS & CUSHIONS
Apiosporina morbosa
Daldinia concentrica
Hypoxylon fragiforme
Nectria cinnabarina
Ustulina deusta
HYPOMYCES
OTHER
Eutypella parasitica
Pilobolus kleinii
Spinellus fusiger
SLIME MOULDS
Arcyria cinerea
Arcyria denudata
Arcyria nutans
Brefeldia maxima
Ceratiomyxa fruticulosa
Comatricha typhoides
Diachea leucopodia
Dictyaethalium plumbeum
Dictydium cancellatum
Diderma spumarioides
Enteridium lycoperdon
Enteridium splendens
Fuligo septica
Hemitricha sp.
Hemitricha calyculata
Hemitricha clavata
Lycogala epidendrum
Metatrichia vesparium
Stemonitis sp.
Stemonitis axifera
Stemonitis splendens
Trichia sp.
Trichia varia
Tubifera ferruginosa
Total # species:  287