Arboretum Expo - Tree Day 2023
Our 2023 Arboretum Expo will take place on Saturday, September 9, 2023.
Details on the Arboretum Expo will be posted as they become available. We will have tours of grounds, trails, gardens, research projects and more, tree climbing demonstrations, and a Plant Sale. The sale will be focused on unique and hard to find plants smaller than we tr. Check our website in August for a listing of available plants.
Below is the list of events from last year as an example of things you may see this year.
Sept 9th & 10th, 2022 (in person) plus Virtual Plant Sale Auction!
Our online plant sale auction was a success! Visit https://www.32auctions.com/ArbPlantSale2022 to see our 2022 offerings of a small and interesting variety of unique woody plants, grown up in the Arboretum greenhouse and tended by our dedicated staff and volunteer groups!
In-person walks, talks, tree climbing demonstration, workshops, and a small houseplant sale table, plus Arboretum t-shirts, biodiversity sheets, educational materials, and more!
---
Friday, September 9th, 2022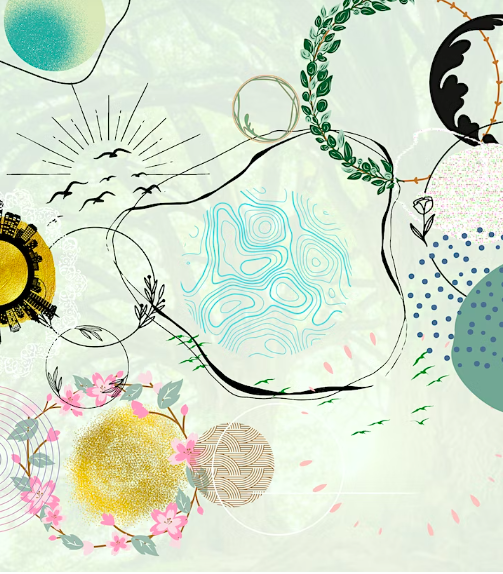 SoundBound!
Time: 7pm
Location: Hales-McKay Shelter
Organized by: Ben Finley, bassist, composer, and PhD Candidate in Critical Studies in Improvisation
Musicians: annais linares (voice and effects), Sophie Brown (harp and effects), Reza Yazdanpanah (tar), Joe Sorbara (percussion), and Ben Finley (bass and effects)
Environmental Facilitators: Chris Earley, Michelle Beltran, Marika Bowrin, Christa Wise
Please register here! Suggested contribution: $15, pay what you can (to support the artists and project costs).
Throughout August/September 2022, musicians in the Critical Studies in Improvisation program at the University of Guelph have been walking-learning with environmental facilitators of the Arboretum, improvising-composing music around our relationships to local ecosystems. Join us for the sharing of SoundBound! where we invite you on a 30-minute guided ecologically-engaged walk or indoor sitting circle. This will be followed by a 1-hour concert of music which has emerged from engaging with the Arboretum's vibrant ecosystems and mentors—trees, weather, pollinators, water, environmental facilitators, and many others. This event will explore our collective roles in caring for local ecosystems and confronting planetary ecological crises.
---
Saturday, September 10th, 2022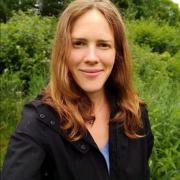 "Seeing the Forest for the Trees"
Hike Lead: Megan De Roover (writer-in-residence and performance studies scholar)
Time: 9am
Location: West Lawn
Register Here!
Learn more
Join us for a public walk led by Dr. Megan De Roover, writer-in-residence affiliated with The Arboretum this year! She is conducting archivaland on-site research for her new book "Seeing the Forest for the Trees: Trees as Participants in Theatre and Performance" (McGill-Queen's University Press). Using a theatre and performance lens, her research monograph explores the relationships we already have withtrees – in lived and mediated encounters – and how we can aim to build better ones. Participants will be pushed to reconsider the ubiquitous yet overlooked tree, and thereby the nonhuman world more generally, through a new theoretical framework.
---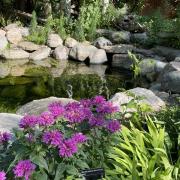 Gosling Wildlife Garden Tour
Hike Lead: Chris Earley
Time: 9am
Location: West Lawn
Register Here!
Learn more
Come and see why The Arboretum's Gosling Wildlife Gardens are such good examples of how to attract wildlife to your backyard and help increase biodiversity in suburban and urban areas.
---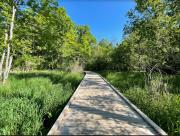 CommuniTree
Hike Lead: Michelle Beltran
Time: 9 am
Location: West Lawn
Register Here!
Learn more
Wild Goose Woods is a hustle and bustle ecosystem full of life. Let's take a look at how plants shape this forest and the creatures that call it home.
---
Tree Climbing Demonstration
Mike Yost
Time: 10am
A brief introduction to Professional Tree Climbing
ISA certified arborist/Certified tree worker Mike Yost of the University of Guelph will demonstrate two types of tree climbing techniques. Single/stationary rope technique and Doubled/moving rope technique. Mike will answer any questions about tree climbing/tree care and talk about some of the physics and proper body positioning of tree climbing.
---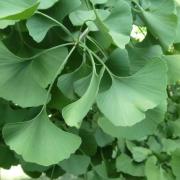 Blast From the Past
Hike Lead: Marika Bowrin
Time: 11am
Location: West Lawn
Register Here!
Learn more
Home to over 400 species of trees and shrubs, the Arboretum boasts a broad collection of rare, endangered, native, and non-native tree species and some living fossils. We will be exploring the wonderful World of Trees collection while learning about some species that have been around for millions of years and are still standing.
---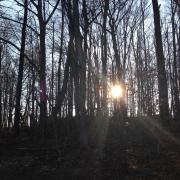 Ecopsychology Walking Workshop
Hike Lead: Memona Hossain
Time: 11am
Location: West Lawn
Register Here!
Learn more
Join us for a Hands-on Ecopsychology Session! [1hr]This interactive, hands-on session will provide an intro to the concept of Ecopsychology, followed by an activity that will engage participants to look at how we can rely on nature through a reciprocation of experiences, allowing nature to gently guide our awareness through our senses and gain understanding through nature's wisdom. Bring your curiosity, sense of wonder and let's connect with our surroundings! Looking forward to seeing you there!
---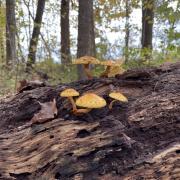 Beings of Victoria Woods Tour
Hike Lead: Christa Wise
Time: 11am
Location: West Lawn
Register Here!
Learn more
Victoria Woods is home to tons of different plants, animals, fungi, and more. But they aren't always easy to find. Be sure to put on your detective cap at the start of this hike, as we'll be taking a deeper look at one of The Arboretum's old growth forest.
---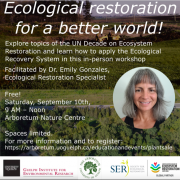 Ecological Restoration Workshop
Presented by The Arboretum in partnership with Guelph Institute for Environmental Research, and the support of Society for Ecological Restoration
Time: 9 AM - 12 Noon
SORRY THIS WORKSHOP IS FULL!
Learn more
Led by Dr. Emily Gonzales - a proud UofG alum (MSc Zoology, 2000) with a PhD from UBC. Presently she is the chair of the Society for Ecological Restoration's Science and Policy Committee, and supports a $21 million/year restoration program at Parks Canada. This event is eligible for 3 Certified Ecological Restoration Practitioner Continuing Education Credits.
Ecological restoration is a vital, nature-positive approach to move us from global degradation to net gain for global recovery. Yet it remains challenging to document and communicate restoration impacts effectively, especially over the long-term. In this 3-hour hands-on workshop for students and practitioners, we will explore topics of the UN Decade on Ecosystem Restoration and learn out to apply the Ecological Recovery System, a tool to track restoration projects, using Arboretum lands as a case study.
---
12 pm-1 pm Guelph Urban Forest Friends (GUFF) Henry Kock Award for Tree Stewardship
Arboretum Gazebo, West Lawn
---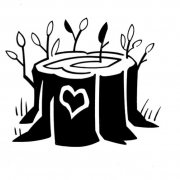 Panel and Launch of Sound Walk- "How to Draw a Tree (Trees, Mental Health, Creativity)"
Presenter: Dawn Matheson, multimedia artist, and Guests
Time: 1-2pm
Followed by a reciprocal Tree Planting on Johnston Green with Student Wellness.
Location: Arboretum Centre
Learn more
Matheson's participatory art project brings individuals living with mental illnesses together with trees for a yearlong creative, care-taking, reciprocal engagement culminating in an immersive public sound walk. The work aims to reflect the parallel crisis of mental illness and the environmental crisis by expanding ideas around art and new media, art practice as care, and the interdependency between humans and our natural environment.
This panel will present the site-specific sound walk on the grounds of the Arboretum, plus the accessible web-based version created by artist Richelle Forsey. www.howtodrawatree.ca
The team will also introduce the second phase of the project, incorporating students in the How to Draw a Forest project.
Hear more about Matheson's process and this project on this radio program, or check out the public Facebook group for the project here.
---
Self-Guided Tours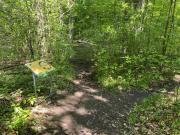 Mtigwaaki 'Among the Trees': A Journey in Anishnaabe Learning in the Arboretum
Follow the Mtigwaaki sign series, developed by Master of Environmental Science graduate student Brad Howie (Member of Nipissing First Nation and former Arboretum intern), The signs and associated audio lead visitors on the Arboretum's newest trail, a contemplative walk through our old growth forest in Victoria Woods exploring how to approach the forest from an Anishinaabe perspective. Learn more from the description of the trail's grand opening.
Other Stuff!!
Gardeners: Ask Us!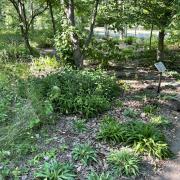 Roots and Shoots Garden: Master Gardeners will be at the garden from 9-2 to answer your questions!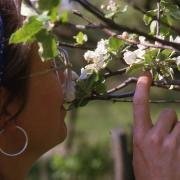 Hear, Here Arboretum! Oral History Story Collecting
Students from the College of Arts seeking stories about The Arboretum will be on site with audio-recorders on hand to listen to your memories that have taken place over the last 50 years!
Little Tree Wandering Cafe Food Truck
Houseplant Sale Table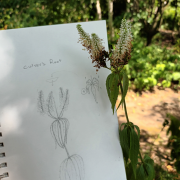 FOR UofG STUDENTS!: Nature Identification and Sketching in the Arboretum
Presented by: SciArt Club
Hello Gryphons! The SciArt club welcomes you to join us in the arboretum for some fun art! Bring your sketchbook and meet us at the arboretum for a fun afternoon and learn about our plants through sketching. You will also have a chance to learn more about our club and meet other new students! No previous experience is required! Kindly download Seek by iNaturalist on your phone to identify the diverse plants in the area.
Time: 11-12:30 pm
Location: Start from the Grey Kiosk at the Campus entrance near South Residences and soccer fields
---
Inose/Field Trip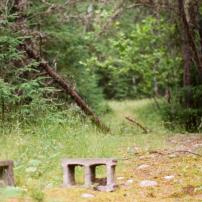 Fill up your water bottle, put on some sunscreen, and go on Inose/Field Trip!
Inose [Ee-no-say] means to walk in a certain way, to a certain place. This 25-minute sound walk is an intimate aural experience emerging from the fertile collaboration between artist Yolanda Bonnell and scientist Dr. Jesse Popp, two Anishnaabe leaders deeply engaged with Indigenous knowledge systems in their different fields. Inose/Field Trip encourages participants to connect with their surroundings, awakening curiosity and the potential for new relationships with the natural world. This project was inspired by a walk in the Arboretum's old-growth forest and can be enjoyed from anywhere. Visit the webpage to download and access this beautiful sound walk.
Special thanks this year to Skyjack and Cooper Equipment Rentals for sponsoring The Arboretum's fall seed collection season with a Skyjack loan for September and October, and capacity building support for our staff's technical training for working at heights.